Right balance between

technology

and

human support

in the transportation sector
The passenger transport sector, be it aviation, rail or cruising, has faced some tough challenges in the last three years, starting with Covid-19 and ending with a sudden exponential increase in demand in the summer of 2022, characterised, however, by a far from adequate quantity of staff: "The shortage doesn't just concern pilots, but ground staff too. The alarm comes directly from IATA, (...) which has reported that thousands of workers left the industry during the pandemic and, now that traffic is growing rapidly, there is a shortage of qualified operators1".
The new normal in today's world requires the use of strategies that involve restoring customer confidence, making operations agile, forecasting demand and supporting rapid innovation in order to succeed.
In this changing reality, the passenger transport sector is faced with ever new challenges: a number of specific factors such as speed of change, tight timeframes and dependency on the various service delivery chains, place the sector under particular pressure. The solution can be found in the development of new technologies.
It all starts with the simple elimination of paper, which in addition to offering no value and weighing on economic and environmental costs, limits the visibility and speed of processes. In this sense, the entire industry has now switched to digital systems, which allow passengers not only to have their tickets on their smartphones but also to upload documents such as the "famous" Green Pass or certain visas without having to print them out or fill them in by hand.
Digital transformation processes can establish a valuable alliance to optimise the system used to transmit and gather information. The key word is "traceability". There is no doubt that the use of reliable and user-friendly technology can contribute to the planning and monitoring of processes. It is no coincidence that every airline and railway company has invested in the development of intuitive and simple Apps, which can be used by every passenger to purchase or change their booking with a simple click. The EasyJet App even lets you measure your luggage2.
Another example of technology that facilitates procedures and optimises the passenger experience has been pursued by British Airways, which became the first airline in the UK to test the use of biometric technology, allowing passengers participating in the trial to travel "smartly" through the airport, without having to show their passport3.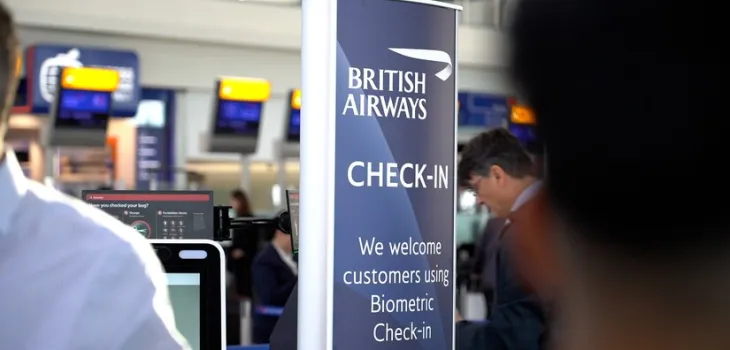 British Airways implements biometric recognition to check in.
What about human support?
The air and rail industry has taken up the challenge of digitisation, understanding the opportunity to improve processes for its customers. It now demands the same commitment and degree of innovation from its employees during every stage of operations.
Unfortunately, or fortunately depending on how you look at it, technology is still unable to make up for the shortage of human staff, which, as mentioned above, has been and will continue to be a problem for air and rail companies: since the pandemic, more than 10,000 people are missing from Schipol airport, while Charles de Gaulle and Orly are 4,000 people down compared to 20194; these are important numbers that, whether you like it or not, have a negative impact on day-to-day operations. The answer to this problem is not always clear and unanimous. What is certain is that most European regulators are working with airline, rail and cruise companies to speed up the recruitment of an appropriate number of operators.
This leads to the conviction that excellence and efficiency must be found in the combination of technology and human input, in order to maintain passengers and their experience as the top priority. This is the mission of our company, Value Group.